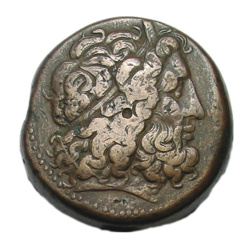 Tom Cederlind Auctions,
22 May, 2014, lot# 111
While on-line charts seem to indicate this is Ptolemy III, I've been advised that the consensus of research indicates Ptolemy II. Also the size and weight of these is supposedly unusual at 98.1 grams. Ptolemaic bronzes at 67 grams and lighter are among the most common and inexpensive of large module ancient coins.
The circular pit in the coin center was used for machining purposes of the cast planchlets but unlike the Aes Grave series, these were struck coins. There are several excellent sites devoted just to Ptolemaic bronzes:

http://www.megagem.com/ancient/ptolemy_series.html
http://www.ptolemybronze.com/


I should mention that Tom Cederlind appears to be a very knowledgeable ancient coin dealer and unlike some, he likes to talk to collectors about coins. You can find his website here: http://www.tomcederlind.com/home/index.html
Ancient Egypt was conquered and incorporated into the Persian Empire. They rebelled against Persian rule in 404 BC, although ultimately had to wait for Alexander of Macedon before gaining some degree of independence. They became independent until conquered again by the Romans ~30 BC. These large bronze coins were struck while they were an independent nation.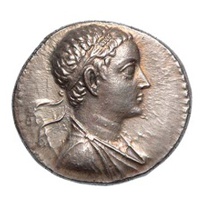 Egypt Ptolemy V, tetradrachm
Phoenician mint, 26mm, 13.99 g
Ed Waddell, Aug 2017
ex Numismatic Fine Arts (Beverly Hills),
Auction 16, NY, 1985, lot 292
historical comments