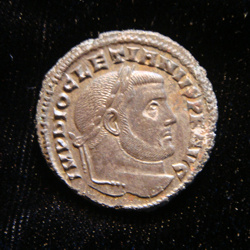 Diocletian
Emperor 284 - 305 AD
nummus, bronze with silvered surfaces
CNG fixed price list, 1989
Nummus or Follis? This coin was also referred to as a follis. Recent research indicates that they are more properly called a nummus. Follis was used in past numismatic literature and most collectors were very familiar with the follis name.
weight= 10.429 g
unc with much original silvering on surfaces (as described by CNG).
There is an extensive discussion of Tetrarchy-era folles on Coin Talk:
Roman Nummi (folli) of the Late 3rd - Early 4th Century

Another thread on the same forum illustrates the history of the Tetrarchy nicely:
Diocletian: Two Interesting Coins and a Legacy of Reform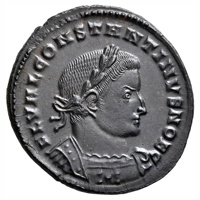 Constantine
Emperor 307 - 337 AD
Nummus or follis, struck 307 AD
Leu Numismatik, 4, lot# 741
26mm dia, weight= 7.24 g

According to "Coinage and History of the Roman Empire", D. Vagi, vol 1, p. 485, there were the following size changes in the nummis. Coincident with this were decreases in weight & purity: the small traces of Silver being replaced with Lead.
Earliest, struck as Caesar, 306-307: 27-31 mm
1st size decrease: 307/308
2nd size decrease: 311/313 then, eventually becomming an AE3 at 17-22 mm
335/336 reduction to an AE3/4, 15-18 mm
Around the time of Constantine's death (337AD) another drop to AE4, 10-12 mm
These small coins were called a "nummis minimus"