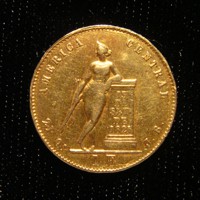 1 escudo, 1853
extremely fine (EXF-45)

(David De Franco Levi, Panama City, Jan 2013)
I obtained this piece early in Jan, 2013, while on Christmas vacation in Panama. It was purchased from David De Franco Levi. Mr. Levi runs a precious metals brokerage www.panamagoldbullion.com in Panama City.
This is the first Independent gold coin type of Costa Rica. The previous types used the Ciba Tree shown on the coins of the Central American Republic of which Costa Rica used to be a member.